These are the more popular things I've made available as prints over the last few years. They're not all my own personal favorite pieces, but they've gotten the most attention and love from you guys. I think collecting them together here might give me some clues about what you all like so much, maybe.
Also I won't be posting for a few days as we'll be celebrating solstice here, but I'll be back right after, on the 23rd. xox
"Down with the Ship"
This was a piece of tattoo flash I did as part of a series, and people really seem to like the sideways lighthouse in it. I did it at 11×14″ in watercolor, and did the linework with a nib pen and ink. The original sold and the prints have sold a lot too, I don't often draw ships but I think I did a decent job on this one. You can still get some sizes of prints of this, here.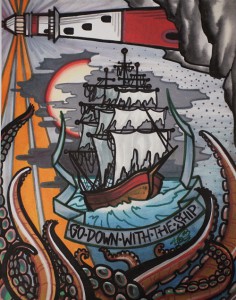 "Einstein"
I did a little contest on my facebook asking people to tell me the funniest story about someone falling down. My friend Tiny told a great story, and was the winner. The prize was a portrait of anyone famous they liked, they'd get to keep the original art. He chose Einstein, and man was he fun to draw. Lots of people seem to like this one. I tried to give him nice gentle eyes. Yes, there are still prints of him. I did this one at 8×12″ in colored pencil.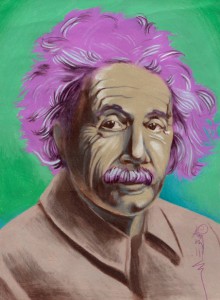 "Red Highway"
The original of this, I gave to a collector of my work. It was a 10×13″ watercolor. Of all the landscapes I've done, people seem to be most interested in this one. Maybe it's all that hot dawn cloud color. I'm not sure.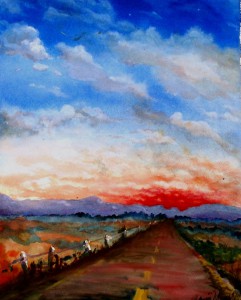 "Dahlia with Dice"
Of all my still life work, this one gets the most attention. Maybe it's the format, that high vertical? It was originally a 12×16″ watercolor painting. The prints of this one are popular and I've made a few handmade runs of it, as well as the open edition prints.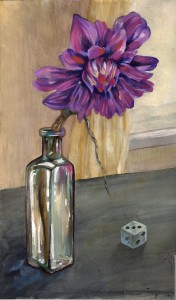 "River Otter"
A lot of you guys love the animal totem series, and this guy is the crowd favorite. He's a little more simple than some of the others, so I think a lot of people just really, really like otters. Colored pencil on handmade tinted paper, 8×12″.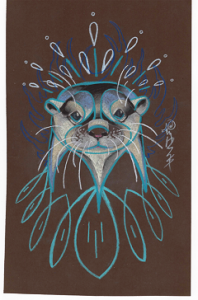 "Weeping Doll"
I've done handpainted prints of her. The original sold as soon as it was finished. I've redone the entire image twice and both reproductions by hand sold immediately. And the open edition prints…people really like this beat-up old doll. She's pretty melacholy. It's originally a 10×13″ watercolor on hotpress.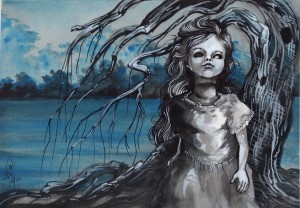 Then, there's "Shy Owl". The most popular of them all. Due to the buyer of the original schmoozing me out of open edition printing, (I was an idiot and won't be doing that so cheaply ever, EVER again) there are only cards available of this guy. Every print I did make of it, that limited amount, sold instantly. People email me asking for a print all the time. I'd be at least a few hundred dollars richer if I'd never said I'd only make a few prints of him.
An expensive lesson.