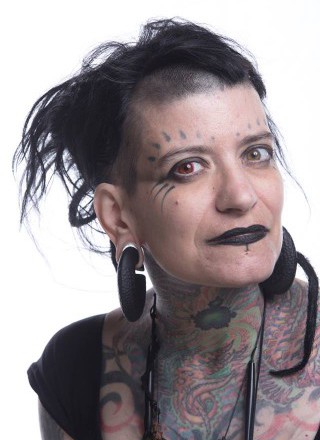 I'm Anji Marth. I was born in the early 70s, and grew up on the east coast of the US, near Philadelphia. I lived in Philly as a teenager into my early twenties. I have since moved all over the country, from the south to the southwest and, finally, to the pacific northwest. I love it here and consider it home.
I work in a variety of mediums. I am a professional, licensed tattoo artist. I've been tattooing since the late 90s. I love tattoos, and people who get them.
I learned to paint and draw from my uncle, David Borghi, who is a painter. His work can be found in the Visionary Art Museum in Baltimore. From him I picked up my creative freedom, my willingness to try new things. I have in the years since, worked with and for many incredible artists. I've been very lucky to have met and known and worked with these people; without them I would not know a thing. I cannot call myself self-taught because of the many mentors and teachers I have had over the years.
My condensed portfolio can be seen here- http://anjimarth.com
my darker works can be found at https://resonanteye.net/the-darker-arts/