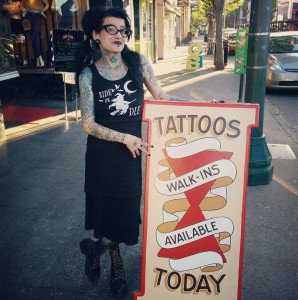 UPCOMING SCHEDULE AND EVENTS:
HOME BASE:
Mom's tattoo, Spokane wa- every Thurs-Sun at all times not listed as traveling events. This is home base. I'll be here unless otherwise noted! if you're traveling in from out of town, email me, we can do a consult that way and I can find you places to stay.
on the 30th! of this month! to grab a time slot click here.
I'll be working 2-8 pm, taking smaller pieces.
I've got two sheets of drawings I'd like to do: in black & white or one added color, all of these are $150. anywhere but ribs/belly (it'll cost a lil more in that area is all, though)
or use the contact form to send me your idea, and I'll fit you in! I rarely have open days for walk-ins, so if you've been waiting now is the chance!
my books are currently open for November as well for any bigger pieces, reach out with that contact form so's I can keep track of your art!
I'm glad the weather is a little nicer for a few days, autumn is the best time. just the best.
I'm not taking art commission requests at this time, but you can still find prints at this link, and originals listed in the shop here (resonanteye.net/shop). inventory changes often so grab it if you see it.
I've previously shown solo shows at:  Unfine art museum, Oak street speakeasy, The Horsehead, and Jameson's in Eugene; Diva, True Love Gallery and Slave to the Needle in Seattle, Heaven Sent and Lux Gallery in California, Mom's, and sundry other cafes, bars, group shows, and odd venues.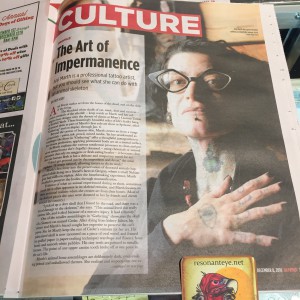 I've been published and featured in the Inlander, Tattoo Magazine, Skin and Ink, International Tattoo Magazine, Tattooweide (Germany), Tattoo Flash, and have been featured in or interviewed for the Stranger, Eugene Weekly, , and have been featured in books including Electric Tattooing by Women, and Ladies in Ink. I have six books currently in print, one poetry, one tattoo and art-related, 4 mandala and geometry coloring books, and one horror coloring book for adults.