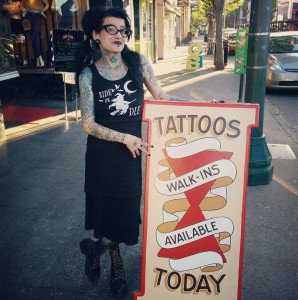 UPCOMING SCHEDULE AND EVENTS:
Mom's tattoo, Spokane wa- every Thurs-Sun until March
First Friday art show, Gathering
(skull mounts and assemblage), Dec 9 Spokane WA at  Mom's Tattoo in Kendall Yards.
Evergreen tattoo Invitational, March 17-20
High Priestess Downtown, Eugene OR, March 21-24
Kansas City Tattoo Convention, May 19-21
I'm not taking art commission requests at this time, but you can still find prints at this link, and originals listed in the shop here (link up top in the menu).
I've previously shown solo shows at:  Unfine art museum, Oak street speakeasy, The Horsehead, and Jameson's in Eugene; Diva, True Love Gallery and Slave to the Needle in Seattle, Heaven Sent and Lux Gallery in California, and sundry other cafes, bars, group shows, and odd venues.
I've been published and featured in Tattoo Magazine, Skin and Ink, International Tattoo Magazine, Tattooweide (Germany), Tattoo Flash, and have been featured in or interviewed for the Stranger, Eugene Weekly, , and have been featured in books including Electric Tattooing by Women, and Ladies in Ink. I have six books currently in print, one poetry, one tattoo and art-related, three mandala and geometry coloring books, and one horror coloring book for adults.