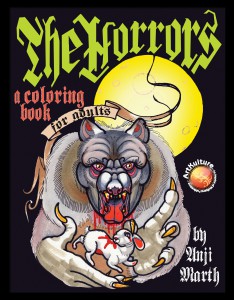 AVAILABLE
HERE
.
The Horrors is an adult coloring book, featuring 61 pieces of original line art representing monsters, cryptids, and ghosts from around the world. For each of the nightmares, there is a page explaining their origin and history.(
here
are two pages as a sample, you can print these to color for free!)
 Since some of the illustrations include guts, gore, and possibly (monstrous) nudity, this coloring book is not suitable for children, only for adults.