Nature isn't cruel or kind; it's just hungry.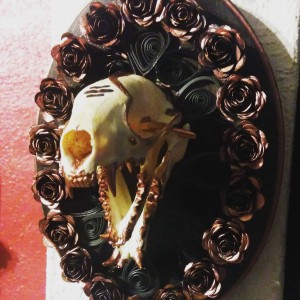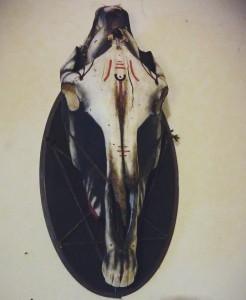 Statement for the collection, "Gathering", which will be on display for First Friday in Kendall Yards in Spokane in December.
…
I work with the feelings that remains and found objects give me, to make a piece that expresses that creature's life.
Many artists who work with animal remains are more humorous than I am about it. I see the remains as a medium for art, with some neutrality, but I don't make jokes with them. The horrors of life, death, and the hard times most animals go through, are the stories behind each of my works.
Usually, animals live difficult lives, and their bones speak to me about this.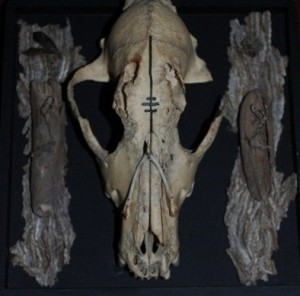 I often get questions because there are other artists that do slaughter animals in the context of their work. I don't do this.
Many of my pieces come from road strikes. I have been working on a series of photographs and an extended essay about roadside nature and roadkill, human safety, and how highways effect the animals that live near them.
As a consequence of this work I have seen that these wild animals are the survivors of repeated injuries (fractures and old healed injuries in their skeletons attest to this) and the way they interact with the road, the difficulty of their lives, fascinates me.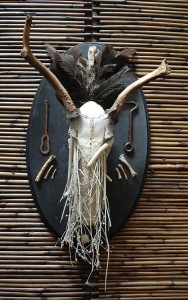 I work with human bones too. It is easier to buy human bone than many animals. I get my human bone from places which sell vintage anatomical displays and specimens. Yes, these bones are legal. I didn't kill anyone to get them. I don't use anything illegal, and I avoid using items which violate CITES or the MBA.
These works are dark. I don't get silly feelings from death.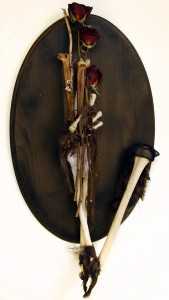 I've sold work and done commissions for vegans- for people who are animal and conservation activists. My work speaks of  people's misunderstanding of the natural world. Nature is full of drama, death, struggle, and strangeness. I try to use the materials I have to portray that.
Reminders of mortality are not for everyone. And yet, we need to be confronted with these reminders, because there's a beauty in impermanence, a longing sensation, and we crave the reality of time's dark passage.
The winter is the best time to think about endings, about death. Rebirth will come, but first we have to pass through the solstice- the darkest hour is always just before dawn.