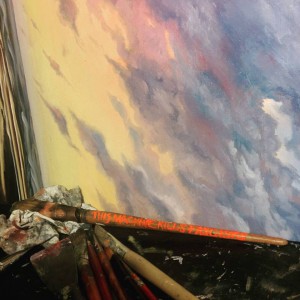 I've been painting every day since I last posted. Here is my current favorite brush and some rags, in front of the cloud section of a painting I'm working on. No matter where you are, there's always a storm on the way.
The day after xmas my elderly lady dog died. She had been sick, off and on, with laryngeal paralysis all year. She was 16. She died in her sleep after a long day of rough times breathing- We'd had the vet coming in the morning, but she was gone when we woke up. She was one of the best, sweetest dogs I've ever known, and I miss her. I've gotten a lot of condolences, so thank you guys, it did really help.
I went back to painting the day after that. These are the things I've been working on all week. (For solstice, I got an espresso maker, stretcher bars, and some brushes…it was a lovely holiday despite the sad time right after.) I also got a popcorn maker. I have been living on lattes and popcorn now for a week, by the way. It's just fine.
Here are the initial stage of the piece I'm currently working on. I'll probably finish this one today. It's an area near Ona Beach in Oregon, where a creek washes out to the surf, causing a little rift and depression in the sand. I made sketches of this just after sundown. The sky was far too crazy red for my taste in the beginning, but I think it's better now. I kept messing with the clouds, scraping them off and trying again. I think  that it's all right now.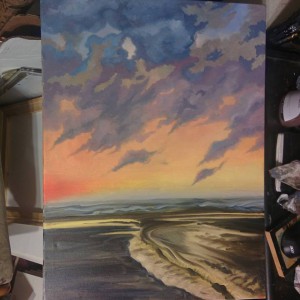 The next thing I want to show you is a painting that was really hard for me to finish. I liked the rocks, the low point of view, with the ocean at my back. Just damp puddles in the sand that had been churned up by people walking around. This was near Heceta Head. There were SO many people there that day, all my sketches say "too many people" in the margins. I also took a photo that day, for reference, because there were birds. Flocks of odd birds and the way they were flying around the people was what I really wanted to paint.  So here you see the beginning sketch in paint, then the landscape alone. Then…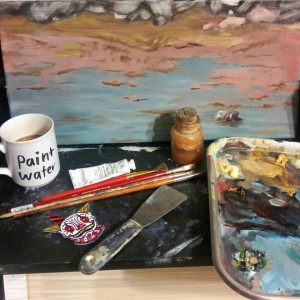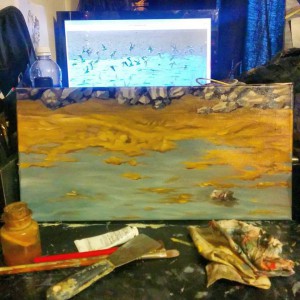 Then I used my reference to scrape out areas for the birds. As soon as I started painting them I was unhappy. They were difficult. I didn't like birds any more. But I'd already committed, mentally, to having them there. I cursed the birds, I fought the birds, I finished the birds and they look all right, for little salty bastards that just happened to fly into the painting. You can see the finished image here, or buy prints. The original for this is spoken for.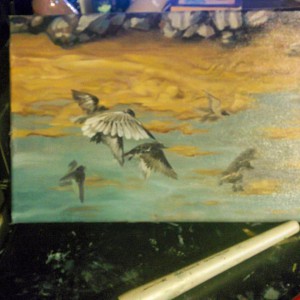 When the birds were done I did this small, quick study of a logging road on Rte 34 near Alsea. I had sketched this site from every angle many times, and it's one of my favorite subjects. Always finding new little things to emphasize or change about it. The mood there was always damp, diffuse, misty. I started then finished this one in a great mood.
The original is for sale, as well as prints which you can find at this link.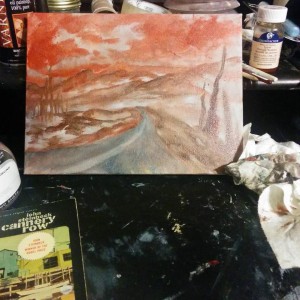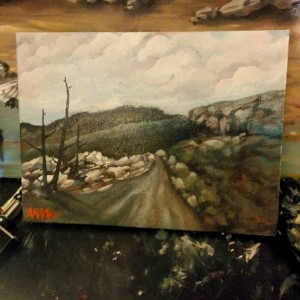 Then, going through my sketch pad, I realized that on my last visit to Phoenix I had done some sketching at roadside. I love roads, highways or side roads, I really enjoy drawing them and painting them. This was in Northern AZ. I stopped to mess with my GPS, pulled off onto a frontage road, and realized that the sky ahead was very ominous. VERY ominous. If you have seen this blog entry you know what happened about an hour after I made the sketches for this painting. I think I decided to stay a bit and draw just to avoid driving into this maelstrom.
I did still of course have to drive through it. I liked the way the road ended in a little hummock though, in this sketch- the road of course continued over that hill on along the way but it looked like the end of the road, like that would just be the end of the trip. I did another recent painting from another sketch I made that day, facing south. That one is here. This one was drawn facing north along the frontage, away from the storm. The light was very weird. It was near sundown but not quite.
On the left you can see it's mostly turpentine and a little scrubbing with an old brush to start with. Then I went at it with very thick paint to finish. This one has been scanned now, and the varnish is drying. The original is for sale and prints are at this link.