getting tattooed with scars from self-harm-answers to common questions.
In 911

,

clients

,

coverups

,

deep thoughts

,

ethics

,

female tattoo artist

,

female tattoo artist pacific northwest

,

female tattoo artist spokane

,

health and safety

,

journal

,

love

,

motivation

,

nomad tattoo artist

,

personal

,

questions

,

surviving your first tattoo

,

Tattoo

,

Tattoo Advice

,

traveling tattooer

,

true stories

,

you

,
I'm not going to include many photos in this post, to provide my clients with some privacy.
side note: this information applies to most any kind of scar, not just self injury.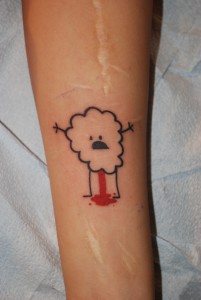 I've got some scars from self harm. I know a lot of people do. it can be really embarrassing, or feel shameful to have them seen. if they're in really visible areas, it's even worse.
I've had mine covered with tattoos (I stopped cutting years ago, when I was still fairly young). I've gotten images that remind me of what I've been through and of what I'd like my future to look like. I want you to know you're not alone with this, first of all. I also want you to know that not only are you not alone, I have seen and tattooed worse scars than yours- burn wounds, surgical scars, all of it. yes, you may have done serious damage to yourself, but no- it's not impossible to tattoo over it.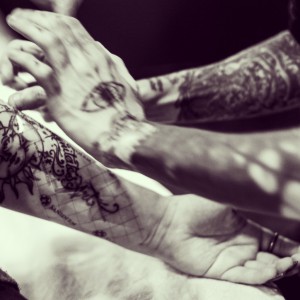 If you want to do this, here's a few things to keep in mind.
you have to stop cutting in that area and adjoining areas for at least a few months before we can start working on it. the skin can only heal so much at once, so nearby open wounds will mess up the healing process of the tattoo. if you can't entirely stop SH/SI, try to go lighter and in a completely different area for a while before you come for a tattoo.
make a consultation time with me first. that way we can figure out the pattern and texture of your scars and skin, what areas are "ripe" for tattooing and which may need more time. scars should be a little bit settled in before we tattoo on them, so the ink will hold properly. a consultation gives us a chance to also meet up and discuss what your goal is with the tattoo itself.
it's OK if your goal is 'hide these', it's OK if your goal is 'emphasize these', it's OK if your goal is to stop SH/SI and it's OK if your goal has nothing to do with stopping. I won't judge. I won't look down on you. I know that you have your own reasons, and you don't have to explain that to me or go into detail. you don't have to relive your troubles just so that I will tattoo you. my goal is to make you happy with your tattoo- that's all. I'm just here to make something positive happen for you.
minimal, crisp, geometric, thin-lined, pale, wispy art doesn't cover or hide scars. if your goal is to camouflage the scars, we will likely end up doing painterly, saturated, textured organic shapes of some kind. branches, trees, flowers, plants, animals. things that have volume and texture. if your goal is NOT to hide or cover the scars, let me know, so that we can work out what you do want to do.
scars that are fresh, still healing, or very livid usually don't take ink very well. usually, moisturizing often with vitamin e and/or a good scar reducing lotion for a few months will fix this. this is yet another reason to stop harming the skin in the area you want tattooed and the surrounding area. we need to give your cell walls a chance to regenerate, to hold the ink in.
don't be afraid to email me or contact me EVEN IF you aren't coming to me for the tattoo. I've been through some shit and I know how intimidating it can be to walk in to strangers and talk about this stuff. I can always answer questions, possibly suggest understanding artists in your area, or even just listen. I think everyone deserves a good experience when getting tattooed, and I'm here for that if you need it.
you're likely to get an endorphin high during or after the tattoo, similar to what you'd get from shallow cuts or abrasions. getting heavily tattooed was part of how I broke my cycle of self harm- I realized I could get that sensation in other ways. it's almost the same chemicals released as a "runner's high"- so just speaking from personal experience, running and getting tattooed are both good ways to get that little kick, without doing more damage.
come prepared to comfort yourself. your favorite blanket, pillow, headphones, dress in comfy clothes. self-soothing is totally welcomed in my space, I will never mock you for making sure you're comfortable and feeling safe. bring a snack as well, or something you like to munch or drink (no booze!) you can bring a friend or come alone- whatever makes you feel safer.
if you need further information, email me, or, preferably, comment below. I'll try to answer any comments I get here as quickly as I can.
it goes without saying that SH/SI is dangerous and you shouldn't do it. we all know that. but I know, and you know, that sometimes it's a thing we do to cope, and we can't just stop until you find better ways to cope with all the bullshit life throws at us. I hope we all find better ways to cope, I hope everyone reading this is able to find things that help. I did-and if I can do a thing I am damn sure that you can do the thing.
I understand that it takes time and work so again-don't feel ashamed. It's just a thing some of us do. Be as safe as you can be.
(sterile saline wound wash, steri-strips, and clean hands help a lot)
xox