The new coloring book, The Horrors, is out!  The book is an adult coloring book containing ghosts, cryptids, mlnsters and urban legends from around the world, complete with stories and descriptions. You can find it here (it's the scary werewolf!) click the images for a size you can print out and color.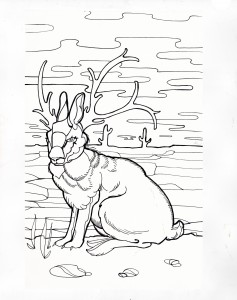 Jackalope
The jackalope is an antlered, sometimes winged, jackrabbit. It's found in the southwestern United States.
They're as fast as an antelope, and as camouflaged as a jackrabbit. You can get hunting tags for them in Wyoming, every year. When hunting a jackalope, wearing good, high leather boots is a must, as they can be dangerous and may try to gore your legs or savage you with their horns.
The jackalope can imitate human voices and may lure hunters away from their fires at night by calling for help. They also find the scent of whiskey irresistible, so traps baited with glasses of whiskey are a good way to capture the elusive beasts.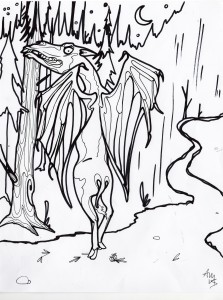 Jersey Devil
I personally encountered the Jersey Devil. I was taking a long solo hike and was passing through the Pine Barrens in NJ- a grey, odd landscape, at dusk. I was coming around the bend of a trail when a…a thing ran past me, across the trail. It was the size of a small horse, on its hind legs, with antlers. It had a horse's head, emaciated, and a deer's body- but behind it flapped immense leathery wings.
I turned and ran about a mile back on the trail, at full speed. I didn't try to hike past that point until full daylight, with others, the following day. There were clear deer tracks in the dirt, only two feet…
The Jersey Devil is said to be: a cryptid, some kind of giant bat-deer, and alternately, the evil deformed child of a satanic witch. Nobody knows its actual origins, but stories in the area are common. It's one of the few creatures in this book I have seen with my own eyes.
I'm going to include the sheilanagig as well, without story. enjoy coloring these, and grab a copy of the book!!! xox