The truth about fan art.
In artwork

,

clients

,

deep thoughts

,

female tattoo artist

,

female tattoo artist pacific northwest

,

female tattoo artist spokane

,

geek

,

horror art

,

joke tattoos

,

journal

,

love

,

macabre

,

motivation

,

original art

,

original drawings

,

questions

,

tat zap wizard

,

Tattoo

,

traveling tattooer

,

true stories

,

you

,
Now, I'll admit  that I'm a fan of things. I enjoy things. I have problematic favorites just like anyone else. wanted to get that out of the way before I proceed.
now, about fan art. I'll do it. I'll do a caricature tattoo (more painterly- I don't do photorealism) of any thing you like- especially if I like it too. however, I don't want to copy a still frame of a film, a production photo or an exact image of a character someone else owns the rights to. it seems like bad karma somehow. those folks worked long and hard and they need to get paid for that, they own the character, the art, the film itself.
so my solution has always been to find a reference, a pertinent moment, and refine it into an idea that references the original without interfering in the ownership of the image. I've fallen down on this, all tattoo artists have. a tattoo is personal use, you see, so as long as I'm not using it to promote or create follow-up products, I'm on the ok side of things.
I prefer the subtle approach. for example, right now I'm obsessed with Westworld. I've got sketches of every damn character, based on extensive research into the actors, not based on any one moment in the series. they're loose, painted. I'm ready to tattoo these. once. one person gets them. I may post them and tag we online (they are open to fan art) but I'm not interested in exact reproductions. I want to capture a moment or meaning, not a face.
I've been obsessed with other things over the years, of course. mostly horror and sci Fi. I'd rather do something that contains the meaning of a scene, rough and raw and laid in strong, than copy and break a law or even piss someone off. there's a lot of celebrity images in the public domain, I tend to rely heavily on mugshots, government images, and my paid Getty images access for these. I'll use these and some of the character's words or token totem items to make the piece. crossovers are fun, too, if I'm a fan of the actor.
I'll do some things. I have dodgy soft spots. if I'm geeking on the same thing as you, I am a marshmallow and I'll do it. I feel bad afterwards, but I love some things too much to say no outright. and I usually only do this if the creator has died.
I really want to change the things to make then more my style, more to your fit, more important. I want to bring out the abstract qualities the original creator didn't do- I want the meaning, the pith. if you're a fan of a thing I'm a fan of, expect our consultation to be a geek fest about our fan theories and conceptual framework, finding symbols to use without infringing on copyright. that's my goal every time.
if, like me, you find important moments in media, like books, movies, shows… come talk to me. I like a lot of stuff, mostly horror/sci Fi and a little weird standard fiction. I've got a list of things I'd love to do, on standby. if our interests match, we're going to end up with magic.
I was more lax about copyright in the old times of my career. after all, I need the word of mouth, the internet brings me about half my clients, and known franchises and characters will consistently outpace original works. people like the familiar and you'll see a crap copy of a screenshot from a movie with 19,900 likes and hearts and comments, while thoughtful original content gets ignored. it's really difficult to deal with as a creator. I've chased that little bump before. Won't do it again. anything related to a media franchise from now on is all OC based on the universe in which the characters are set, all characters drawn from copyright free sources.
I'm an artist and I know artists need to get paid. while I need the exposure copying and making fan art gives me, and I enjoy it with my particular interests, we've got to find ways to change things- to use elements that are meaningful in that universe, without simply tracing a damn thing.
currently I'm interested in Westworld, the Wire, better call Saul, Ursula k Leguin sf (not fantasy though), everything from Stephen King, Octavia Butler, any horror movie you can think of, and of course, any celebrity who's a little off their rocker. I'd like to do an Idris Elba, Antony Hopkins, Charlize Theron, Gary Bussey, Grace Jones, any woman in a good strong character actually from any era. I'd like to paint character actors. I'd like to tattoo a lot more characters from fiction instead of movies. true crime! but then also, I'm a horror movie creep so I'd like that too. inglorious basterds! hey just try me. if I'm not a geek for it, I'll know someone who is.
just no direct copies. I'm not made for photorealism, my work is rugged and strange and won't work that way. you can contact me if you're interested by email, or with the link here: resonanteye.net/gettattooed.
I've been focusing more on skin and less on paper, so these images start out loose, they get refined on the skin. it's about your interest in a thing matching mine, and your trust in the process. but I'm gritting my teeth waiting for more of this in the schedule, so please, bring it my way.
please. my inner nerd is underfed.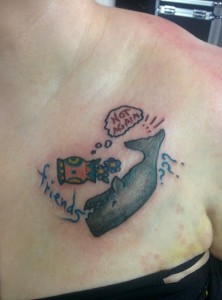 bring these to me. please. I'm in the mood.