I know that the real wise advice I could give you would be; "Get it where you want to see it." Because after all, the pain is temporary, right? The tattoo is what lasts. But I get asked this question a lot, so I'll give you my honest, true answer.
Get it on your outside calf, shin, or on the front or outside of the thigh.
These are the easiest areas to get tattooed. They hurt the least, look the best, and last the longest with clarity to the original. Even if you gain and lose weight, these areas won't change much. Even when you get ancient, the wrinkles on the rest of you won't really effect these areas so much.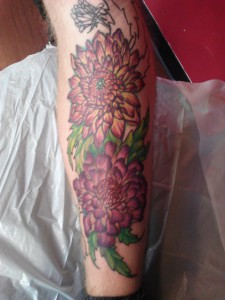 If you have to hide tattoos for work, high socks or knee-length skirts will cover one or the other of these. The areas are capable of being used in either a very soft, flowing and feminine way, or a blocked, solid masculine manner- so either way, the space can be used how YOU want it to turn out. It can emphasize the curves or obscure them. It can accent muscle or smooth it.
A design with a strong s-curve looks great in either place.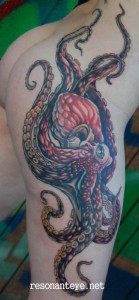 The skin structure is good and will be more solid and consistent than ANYWHERE AT ALL ON THE TORSO. Your torso twists, bends, and the skin changes all over it with every pound gained or lost, every gym day or potato chip, every pregnancy, every time you reach for a thing your torso skin gets stretched a tiny bit. Every wrinkle and sag is concentrated on your ribs, waist, and chest. It's the worst possible area for a tattoo really.

Going back to the start of this whole thing- calves and thighs hurt less than any torso tattoo as well. AND they will last longer. It's win-win.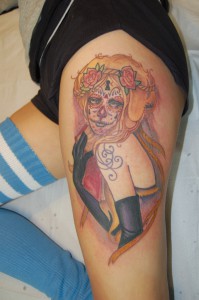 So, if you want my real advice, and not just the thing I am supposed to say, then listen to me and get your calf or thigh tattooed. It'll look amazing there. Promise. Big or small, get it there.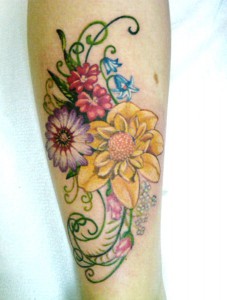 Small tattoos look great just above the ankle bone, or just below the hipbone on the thigh. Big tattoos look great all over the leg.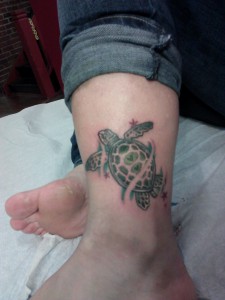 The only "bad" leg areas are the knee, the foot, and the groin. All of these areas have odd skin and won't last as long or hurt as little as the calf and thigh. Plus the nice, flat areas of the calf and thigh make the design less likely to get distorted with movement, making them a good place for geometric work, or images with faces or human figures in them.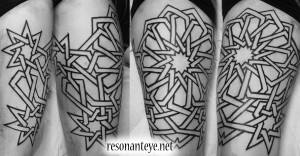 Get your legs tattooed. It's awesome.