I've had to cancel my Seattle trip due to family health issues. I've got a fund going to cover my own medication and therapy in the meantime, that link is here in case you're flush.
During the free time I have had, I dug out all my screenprint stuff from my art hoard. I had another tattoo artist make some shirts for me and realized I had all the stuff at home (big thanks to Christian Lyze!!!)
So I made some screens
after burning those, I started printing.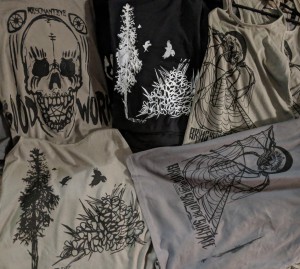 the more I did, the better they got. I forgot how fun it was to do this. I've been pressing them with an iron but thanks to a loved one I've got a heat press on the way! in this weather, that'll help a lot.
you can find all the shirts I have finished in the resonanteye.net/shop link. I'm gonna make a lot of these, this fall, I think.
…