if you are capable and willing to defend someone who is being harassed or harmed, this is a great idea. I'm fully in support. there may be some naysayers but I think expressing this willingness to help others is a good thing.
you shouldn't feel bad if you can't help others or may be victimized yourself; but if you are able and willing to step in and stop others from being harassed and harmed this is a good way to express that, just in case.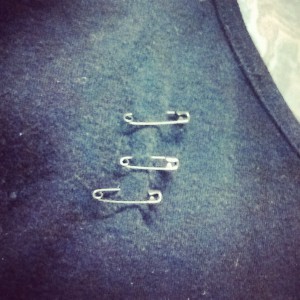 because I support this idea, on November 20 I'll be doing safety pin silhouette tattoos (visible places only, wrist/hands/neck) or semicolon tattoos (any place on ya) for $50 (below our minimum.) first come, first served, from noon till five.
for each tattoo I do I'll also donate ten bucks to the Southern Poverty Law Center to aid in their efforts to stop racism and misogyny.
I'm doing the semicolons as well, because not every person is able to step in and help others. some are not physically able, others are likely to get targeted themselves, or have other reasons.
bullying is often a contributing factor to suicide and suicide rates spiked in vulnerable populations this past few days, so I'd like to support those who are struggling with that, as well as those who are allies willing to step up and defend others.
feel free to share.
in other cities/areas, for safety pins,
Brent Schlemmer , (Indiana)
Kimber Teatro, (Portland, Oregon)
Curby Dickens (Salem, Oregon)
Club Tattoo Scottsdale (Arizona)
Suzen Tattoozen-Tanton (Eugene, OR)
Denise Gardner (Corvallis, OR)
Jessica Parrish, Ink Dreams Tattoo (TN)(will be donating to local soup kitchen for each tattoo done, the 21st)
George Long (Seattle, WA)
Premium Tattoo (Oakland, CA)
Steph Burnside (San Diego, CA)
I don't know if they're donating to anything, what day they're doing this, or what they're charging but you can look them up to find out.
if you're a tattoo artist or shop doing something related, please comment- I'll add you to the original post. then we can all share it so people in different regions can find someone who's doing these.
xox #safespace #support #ilovemyclients #safetypin #semicolon #spokanewa #spokanetattoos #solidarity