Pennsylvania: Heritage tattoo in Easton, Abaddon tattoo in Pine Grove, and some family time.
Photo-heavy post after the jump!
I'll be at Abaddon until the 8th. I'm booked full except for an hour or two on this saturday.
After that I go on to Frankfort NY, to the electric eye candy convention. I'm teaching the seminar there on sunday at noon- if you want in on that, you can pre-register HERE (preregistration gets you a little extra swag.)
I think I have an hour or two open friday and saturday at that convention. Sunday is solidly booked though! Again…get a hold of me. You can use the form HERE if you're not sure how to reach me.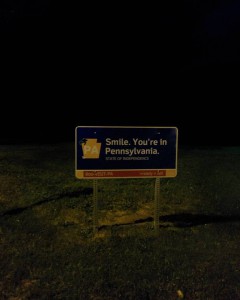 I'm getting to meet all my favorite internet people!
"Found" some good lettering at the local graffiti hotspot.
Got to work at Heritage in Easton for a few days; what an awesome shop! That's Josh, the owner, tattooing.
This was an abandoned Trump sticker booth at a flea market. Then Mt Rushmore's official page liked my post about how evil three of their heads are. I'm the best uncle ever and I swung on a willow tree.
We spent a day in Gettysburg. That second photo is of the "cyclorama", which is actually a massive painting that spans 360 degrees, oil paint, by hand. It was great. I'm standing in front of some of the dead guys. Then I had an argument with my new boyfriend, Abe.
The following are from the Philly art museum. Eakins has a lot of work there; this painting alone is worth a trip to the museum. Every detail is perfectly executed.
Looking at and posing with statues.
Here I am, north of the Mason-Dixon. I belong on the north side. And the Wooden Shoe! STILL OPEN. This last photo is my uncle Joe, from the band The Buicks, explaining how the blues is actually really happy upbeat music. (Not really)