materials post: oils, article in Brut Force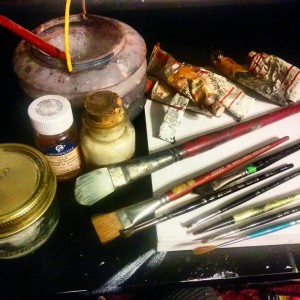 I wanted to show you what I use with my oils. in this photo you can see at the top left an expandable wash bucket. I use detergent in the water, this is for any washing I have to do with my brushes, but I usually don't. if you paint every day and rinse the brushes with turp when you're done they stay soft.
in front of that you can see a good example of modernization. in the left is a bottle of "copal". this new product is not copal, which is made from amber/pine resin, instead it's some citric junk. next to itf you can see a corked bottle of real copal, which I've got a jug of hidden away from many years ago and dole out to myself in small quantities. I've been using this small jar for about a year.
in front of that is a sealable jar I use for turp. I get the odorless but it still stinks. I use this while I'm working to wipe paint off the brushes. nothing else.
on the right
you can see my paints. they're antique, I inherited them. the cadmium paints I use aren't hues (substitution colors) but real cad reds and yellows. it's poisonous so I can't eat a sandwich while I work. I've got a smallish tube of real rose madder which I hoard. this and the ultramarine are also very old. I think maybe 40s-60s era based on what I was told. they're heavy pigments, really rich compared to the newer brands I tried. I use lead white from the same batch as well, I've got a lot of that. more poison!
the brushes- that big one is hog bristle. the next biggest is synthetic sable and very soft, I use it to blend. there's a stippler there I use for scrubbing color into or off of the canvas. a few filbert and bright firm synthetics, small chisels, and then a really nice long real sable rigger.
I use a mayo tray as a palette, I've bought a few over the years for tattooing but this one got dented while I was traveling so it's a palette now. I cover it with clingwrap at the end of the day so my paint stays soft.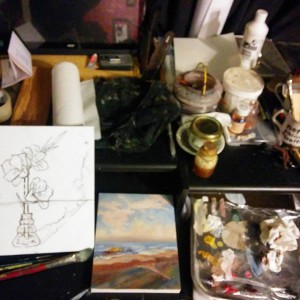 Here you can see everything set up for working. I use a mayo tray that unfortunately got dented as a palette. I'm working on two paintings, more about those in a minute. you can see I use a lot of paper towels too as well as a rough old rag. The not-paint-water mug makes its usual appearance, though when I work in oil it just holds the brushes. I don't trust my brain. There is a bottle of Bob Ross gesso in this photograph. It is empty, I like having it there though. It reminds me not to eat paint.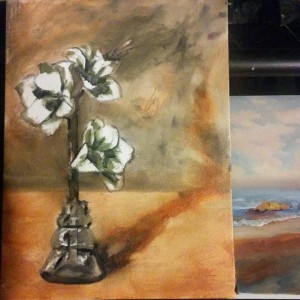 This is an underpainting, I don't do them every time but this time I did. I then screwed up the painting beyond repair with some bad composition choices so it's going to get scrubbed and I'll reuse the canvas for another thing.
Here is a terrible blurry photo of the little seascape, which I think will turn out just fine.
This is a thin first layer just to lay in shape and tone. It'll get a second layer, some detail and smoothing, and a glaze.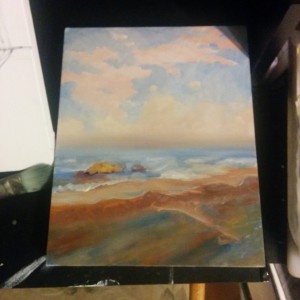 I don't use a lot of medium, I have liquin if I'm impatient and a stand oil too just in case but mostly I work fat, just paint, and heavy and thick. it takes a long time to dry but I like the look. the copal is my glaze at the end.
I use liquin early on, I like the early layers to dry fast. I keep two or three pieces going at once in oil, so something is always ready to be worked on. Going back and forth from watercolor is like stepping onto the ground from a carousel, though. Takes me a minute to get my sea legs back.
You have seen my watercolor setup, which is a lot simpler.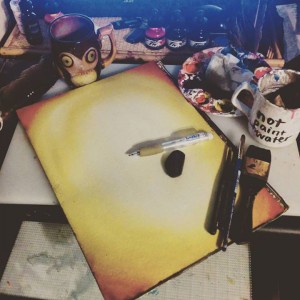 I trust myself more when it's water and not turp in the mug. All these things have been put away for a few weeks so I can work with oil for a bit. Then the oils will get packed into the box and these things will come back out. I used to have a few dining room tables, each with a different medium set up on it, so I didn't have to pack things away like this. Right now my space is very limited so it's one thing at a time. We are supposed to be putting in a shed studio though, so maybe that will change.
I also want to mention the fantastic magazine Brut Force, which recently interviewed me. The whole magazine is great and I feel a little out of my depth being in there among so many beautiful creative artists and their work. You can read about that here. I usually do not use the telephone but the interviewer had a good bedside manner and he got me through it with aplomb.
As a last thought, I'm planning to start scheduling posts by topic; I think mondays will be tech/materials day, tues will be tattoo advice or informaion, weds will be process shots, thrs or fri will be tattoo or other photos.