PSA: SHARE!!!
if you have read/are using that site as a source of info about tattoo inks please PLEASE be aware-
THE SOURCE THEY CITE IS COMPLETELY NOT CREDIBLE WITHIN THE TATTOO INDUSTRY.
THE SOURCE THEY USED IS INCORRECT.
THE INKS (BRANDS) THEY LIST ARE REALLY TERRIBLE FOR A VARIETY OF REASONS AND YOU WILL NOT FIND A TALENTED PROFESSIONAL USING THEM.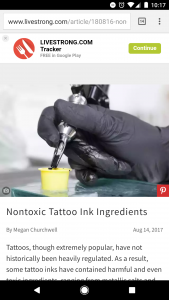 they used a fake, crappy online "tattoo school" scam website to get their info. the inks listed include two brands with recalls (!!!!!) and a brand that has really low pigmentation. those brands were listed as "good" only because they're potentially available to non professional artists!!! Most amateur grade and publicly available inks are made with all sorts of contaminants, and some are dangerous.
The scam school website they used as a reference is NOT a reliable source for information.
THIS IS A BAD SOURCE FOR INFORMATION ABOUT TATTOO INKS.
professional grade tattoo inks are not available to the general public, contain nothing extraneous, and you won't find out about them through "how-to tattoo dot com" or some crap like that.
tattoo inks available to professionals show no toxicity in ingredients, are not hazardous, and are usually vegan (some brands of black are the exception to that).
if you have questions about ink, ask your tattoo artist. we will always answer questions for you and we have msds sheets as well. (these images are an example, from a brand used by many professionals.)
(this is from one of several brands often used by professionals)
I've seen reference to this website several times now, so I decided it was time to let people know this is NOT CORRECT INFORMATION.
Please, please. If you have concerns about the inks, ASK YOUR TATTOO ARTIST. If you do not trust your artist, FIND ONE YOU TRUST. Get tattooed by professionals only!