The internet has so much imagery in it, it's understandable why you'd want to use it to find good ideas for your next tattoo. But there are a few things to watch out for, and a few things you definitely shouldn't do.
When you have no idea what you might want, it's really tempting to just start googling "tattoos" or "tattoos for girls" or something, and look around at what other people have. There's nothing wrong with this; this is a great way to get ideas, seeds of ideas. You have to be careful though, because these tattoos belong to other people. Either they belong to the tattoo artist or the wearer, one or the other, no exceptions.
They own them.
So, yes, use the images online of other people's work to get ideas for subject matter or placement- but not as an exact thing to get tattooed. There are reasons for this; ethically, it's theft for the tattooer who ends up doing your tattoo. They don't get to really do their best work, because you've instead asked them to steal art from someone else. Legally, it's also theft. The original artist who drew and tattooed it owns the no-shit actual copyright to that tattoo. It's plagiarism and is considered theft.
You can bring in these images as ideas, as things you like the style or subject of- but you shouldn't try to get someone else's tattoo exactly copied onto your own body. I think everyone is entitled to their very own tattoo, and I think artists are entitled to be paid for their work in drawing and designing the tattoos.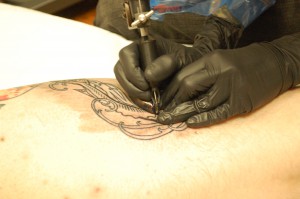 The best way to use the internet for tattoo ideas is to follow the advice here, and use the internet to find the artist that did an awesome tattoo. That way you can go to them and tell them "I liked this piece you did and want something like it" and you will get exactly that, without any ethical problems. You find the artist you want first, then figure out the art with them, this is the very best way to get a very good tattoo done. (this applies to big or small, extensive or simple tattoos.)
If you bring in someone else's tattoo and the artist is willing to steal it, they probably are not very skilled to begin with. Good artists won't steal. Copying someone else's tattoo is really, really a dick move. It makes you a thief, really and truly it does. I promise that if you find a tattoo artist whose work you love, they will do a MUCH better version of the idea for you, that will suit YOU and not some other random person you've never met. Find the tattoo artist you trust, whose work you love, and you won't have to copy someone else's tattoo to get something awesome.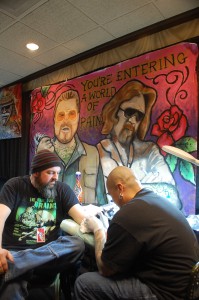 Note that while this applies to other people's tattoos online, it doesn't work the same way for art in general. If you see a painting you love, and want tattooed, contact the artist who made it and tell them you want to get it tattooed on you. A large majority of artists will just say yes, go for it, or at most they will say "buy a print first please then go right ahead!"
There are very few artists in this world who object to people getting tattoos of their work- but you should always ASK first anyway, because the artist owns that art. They own it. They own the rights to it, and using without permission is stealing. This applies to paintings, photographs of flowers or wild animals, every image has an owner. There are exceptions (copyright-free websites, tattoo flash that your tattooer has paid for, etc) but things that you find on google are NOT NOT not free for the taking. Those images all belong to somebody. If you can't figure out who the original artist is, ask your tattooer to help you out. A  lot of the time we can find out for you.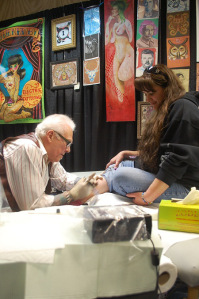 If your tattoo artist has flash on the walls of their shop, or books of images for tattooing, it's because they paid for the rights to tattoo those images. This means they're not stolen, they're totally fine to choose from.
For tattooers, take your photographs so that the tattoo is seen at an angle or so part of it is obscured. Use a strong watermark across the image to make theft more difficult. And rest assured that only assholes steal; your work being stolen is not any detriment to your reputation, but to theirs.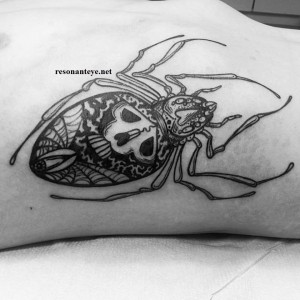 A real asshole can and will use your tattoo image to make a stencil of sorts: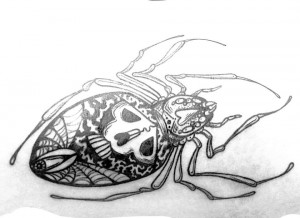 But if the image is at an angle, their finished piece will never look quite right. Symmetry and details will look skewed and wrong. This helps a lot. Try it.
Further advice for tattooers on retaining copyright is available in my seminar.